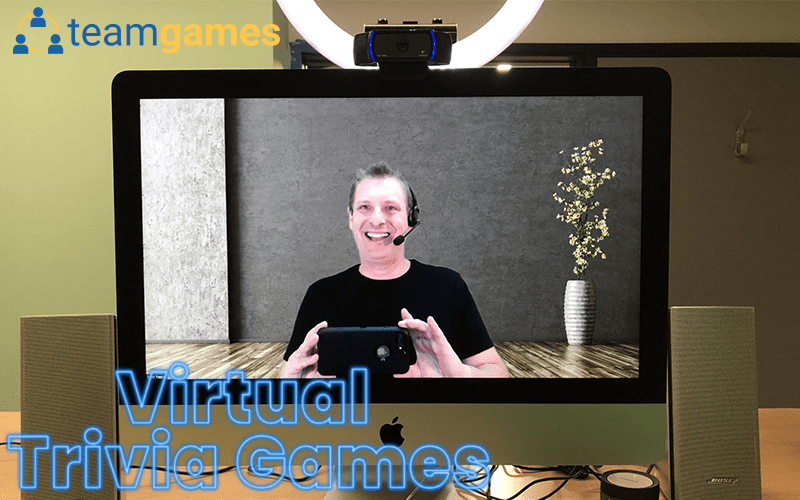 You must have heard the saying that "all work and no play makes Jack a dull boy." Well, this saying stays valid for all the working individuals out there. Having some fun element in work is crucial to make sure there's lesser mental pressure and all the employees of the organization enjoy their work. Virtual Trivia Games and several team-building activities keep the employees working with the best productivity.
Team-building exercises and games are essential for remote teams, just like in-house teams. Since virtual trivia games are popularly increasing every day, many remote teams are engaging with their employees through these games.
Virtual trivia games are games played online where participants answer questions on a variety of topics. These games are designed to test players' knowledge and can be played individually or as a team. Typically, in trivia games, players use a web-based platform or an app to participate in the game.
There are several trivia games like sport trivia game to play with remote teams and we are going to talk about the best virtual trivia games in this blog.
So, let's begin with the best virtual fun team games that you can play with your remote team and have a good time.
Best 10 virtual trivia games to engage your remote teams
TriviaMaker
TriviaMaker is a web-based platform that allows you to create a new trivia game or choose from the existing ones. These games allows the remote teams to create their custom trivia game and enjoy it with the team. TriviaMaker is designed for video conferences and it helps to add some fun to virtual meetings.
Kahoot!
Kahoot! Is a game-based learning platform that enables remote teams to create and host interactive quizzes, surveys, and discussions. This learning platform can be used during virtual team events to engage remote teams and have fun sessions with all the employees. Moreover. Virtual teams also use it for team-building and for playing virtual trivia games. Kohoot also encourages the participants to create and share their own Kohoots.
Popcorn Trivia
Popcorn Trivia is one of the best games for all the movie lovers out there. If your virtual team loves to watch movies, Popcorn Trivia is worth a shot. It has several options that the team to play with each other by answering new questions related to movies. New questions are added every week and the team can engage in the fun questions to test their knowledge of films.
Quizbreaker
This is yet another team-building game that deserves our attention. This virtual team-building team creates great bonding between the members of remote teams by delivering quizzes to their inboxes. In this game, the admin can invite their teams to engage with each other over the quizzes and have a fun-filled time. This remote team-building game helps the remote teams to know each other better and improve their communication as well.
Sporcle Party
The Sporcle party is yet another one of the best team-building games for virtual teams. In this game, one person hosts a game and all the team members join in like Pop trivia game. Players wager 1 to 10 points for each round, depending on how confident they are of their response. This app includes thousands of questions based on dozens of topics and therefore, it is one of the most engaging and fun Trivia games. You can consider playing this on their next virtual Trivia night.
Trivia Crack
Trivia Crack is another team-building game with an interesting twist. In this game, the participants spin a wheel with six categories. The objective of this game is to answer at least one question in each category in order to win cute characters. The players in the game can also compete against one another to win the characters. This game is one of the best team-building games on Zoom. Note this game down and play it with your remote team next time.
Jackbox Games
Jackbox Games has a variety of virtual party games for remote teams to explore and play together. These games has games like Quiplash and Fibbage, Drawful, Trivia Murder party and more. The best thing about these Games is that these games can be played with up to 10 members of the team remotely.
Quizlet live
Quizlet live is a team-building and learning game which enables employees to learn almost everything. This virtual trivia game is great for those employees who believe in learning new things constantly. Quizlet Live allows creating customized study sets for the employees and they can even compete against other teams. Overall, this is one of the most helpful virtual trivia games for employees who wish to enhance their skills.
PoppyQuiz
PoppyQuiz is a free multiplayer real-time social trivia game. The PoppyQuiz team has created a super creative, fun and engaging game that is perfect for remote teams. In this game, the players can choose a quiz from any topic and challenge the opponent to a trivia face-off. A single match consists of six rounds and a bonus round as well. The team that answers more wins in the end. It is a great custom trivia game to play with remote teams in real time.
Pysch! Outwit your friends
Psych! Is a virtual trivia game where a player guesses the correct answer to a trivia question among the answers made up by other players. The one that guesses the right answer wins that round. The best thing about this game is it is compatible with Zoom which makes it one of the best team-building games on the Zoom app. Explore the variety of fun categories in the game and try it out with your remote team buddies.
Engage your remote teams with virtual team games
Team-building activities and games are a must for remote teams. These activities hold the team together and make sure they participate in the virtual team-building activities and enjoy themselves. These Virtual trivia games also help the team members to know each other well, increase their productivity and enhance their social skills. In addition such team-building activities will keep the workers involved, happy, and entertained because remote work can be quite monotonous at times.
So, you know the drill, right? Try out these 10 best virtual trivia games with your remote teams and keep finding new fun team games, remote team-building activities and virtual games to keep the boat sailing smoothly. Remember, happier employees are worth everything.
If you have more fun virtual games in mind and want to share them with us, do mention them in the comment section below. We would love to try out new virtual team-building activities on our next Trivia game night.