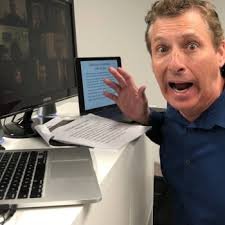 Private Virtual Team Improv Events – Bring Your Team Together with Improv.
We offer improv comedy experiences for virtual company events around the world. Corporate Improv Training with relaxed and fun workshops packed with improv games for corporate training. · Good for 10-40 participants, 60-minute classes, led by 3X Emmy Nominated TV Show Host Scott Topper.
Business Improv offers virtual training to virtual teams and virtual leaders around the globe. remote workers will understand how to incorporate "Yes, And" into their day-to-day virtual work and play games to create connection.
Book your exclusive corporate event today! Our team will get back to you in 10 minutes or less.
Online Improv Corporate Team Building & Improv Comedy Workshop with Live Host Scott Topper
Improve team Confidence, Communication, & Camaraderie with an improv class online today! Virtual improv team building, virtual improv games, and corporate improv training is what we are all about!
Our Improv virtual event experience will bring your remote team closer!
Looking for improv for the workplace or just fun improv classes? Look no further! Improv comedy and business go hand in hand. Improv for executives helps to free the mind and body and improve communication skills.
Ready for a new corporate team building experience?
Connect virtually through our fun interactive improv online workshop.
Improve eye contact, listening and observing, thinking quickly! Practice non-verbal communication and actually listen to others. We have online improv exercises for business that are virtual team building activities designed to bring your team close together with fun corporate improv training to laugh and connect at a safe social distance!
Is your team working from home? Contact us today!