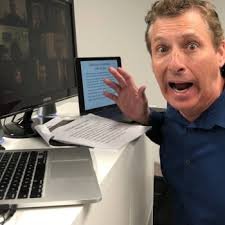 Private Virtual team events. Our Professional-Led Classes Can Accommodate Teams Of up to 40 participants. Book Your Event Today! Bring Your Team Together In A Fun And Safe Way. Book Your Private Group event today!
Online company events and corporate virtual events are a blast with improv expert Scott Topper. Our team can help organize a memorable virtual company outing. Enjoy a custom and unique team building event w/ Scott Topper. Call today.
Private virtual team events help you to connect with your team. We offer a Top-Rated Virtual Improv Event Your Team Will Love. Book Instantly Online Today!
Improv Online Experiences are virtual improv experiences led by 3X Emmy TV Show Host Scott Topper.
Book Live, Online Improv Classes, Taught by Expert Host Scott Topper with Verified Reviews. Scott's Improv Online Experiences are Hosted by Improv Expert Scott Topper and are Live and Interactive. Book Online.
Corporate Improv training that's Covid-friendly online improv training for business. We provide team building activities for work groups to develop your team's ability to be open and connect. Virtual improv party is the perfect team building activity.
Team Building Corporate events, through the use of improv games made famous by Comedy Sportz and "Whose Line Is It Anyway?" will connect your remote work team.
Improv Fun & Games with an Emmy TV-Host
Find out in this webinar learn how Improv training prepares people to perform their best under a variety of conditions.
Scott's improv Comedy Online corporate events provide an event to remember for your group!
Looking for an exciting alternative to the run-of-the-mill team building workshop? Want a creative and supportive way to connect your remote team for Corporate Events & Trainings? Want to bring your company together to celebrate, or to work on team building? Get pricing. Engage your team, no matter where they are, with remote improv games and virtual events. Custom events. Remote games. Teambuilding. Virtual events. Have fun.
We offer improv Workshops to improve your team's performance, build community, and engage in discussions. Dive into teamwork principles and best practices with improv fun and games with Scott Topper.
Improv for Business Corporate Improv Training – Now Online. These days, more and more people are struggling to find the balance between work and play. We can help!
Enhance your workplace culture with our corporate workshops that combine improv and professional development to take your business to the next level. Experience Corporate events, team building, company and private party entertainment with one of the nation's top improvisational performer Scott Topper. Top corporations integrate improv into their training and development programs.
Spice Up Your Events with Scott's IMPROV experience. We've helped hundreds of companies and we have team building events to make your gathering a success.
We recommend Scott's improv class to any business group big or small! Scott s a master at his craft and hosts a super fun online improv experience! Your team will really enjoy their online improv class.
Virtual Business Improvisations helps to cultivate leadership and communication skills for your business team through online corporate team building games and improv.
Great Virtual improv "happy hour" for group bonding. A fun event online on Zoom. Team-building sessions for business.
Join us for a lunch and learn one hour improv team building session to learn something new and polish up your communication skills. Utilizing the techniques and exercises of improv. Unsure whether online improv classes are the right activity for your virtual team?
Change things up for your next team building event with a one hour improv online experience. For team-building and corporate training, improv is a fantastic tool. Improv is about listening and connecting. Corporate Training. Now Online!
Our most popular virtual event is our online improv fun & games for beginners where your employees will engage with one another & have fun while learning with improv expert Scott Topper.
You can have engaging and interactive virtual improv comedy for your online meetings, morale boosters, company happy hours, conferences and more.