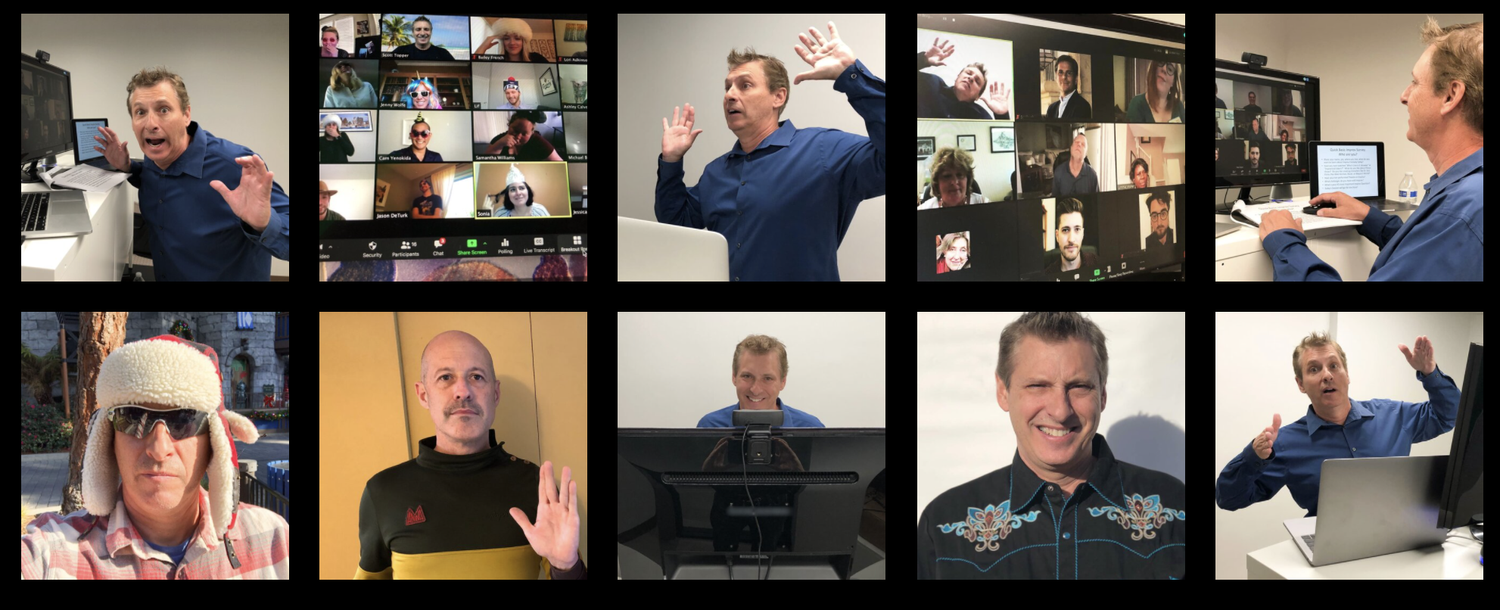 Bring your team together with team building Improv. We offer a Top-Rated Virtual Improv Event Your Team Will Love. Book Instantly Online Today! Explore Our Improv Team Building & Book Your Improv Experience Today! Live Creative, Unique, and FUN Events.
Improv expert Scott Topper will help you plan a memorable improv experience for any occasion. We'll help you create the perfect improv experience for your remote team.
Providing fun and creative improv team building events to global companies for over a decade.
Foster strong, authentic bonds between coworkers with Scott's unique TeamBonding Improv experience. A fun Corporate Team Building Virtual Improv workshop for 60-minutes.
Corporate team building activities with Scott's online team building improv experience. Thanks for discovering our group corporate improv experience.
Discover and plan the best virtual team building improv activities with our Corporate Improv Workshop.
If you'd like our assistance finding or planning an improv event for you, just let us know your group size, preferred dates and any other details you think we should have and we'll find and send you the perfect improv class options.
Join our fun Team-Building Improv Workshop. Complete your booking by walking through our simple checkout process. Your team will learn the rules and guidelines of improvisation during Scott's interactive virtual Improv Workshop. Virtual Improv event for every team. Easily find & book the perfect virtual improv experience for your event. Scott offers the perfect improv event for your group size & budget. Engaging Improv Experiences. Combat Zoom Fatigue. Team Building. Plan an Event. Hand-curated Events.
Private Virtual Team Improv Events to Connect with your Team
Explore Our Virtual Team Building Improv Experience & Book Your Engaging Improv Experience Today! Top-Rated Virtual Improv Events Your Team Will Love. Book Instantly Online Today!
Tired of the stress that comes from planning events? We've simplified the process for you. Need help planning? Talk to Scott Topper from our free event planning team & we'll do the heavy lifting.
Unforgettable Team building Improv Experiences with Scott Topper. Your Next Team Experience Starts With Us! Plan Unforgettable Memories for Your Team. Schedule a Fun and Engaging Virtual Team Building Activity. Virtual improv experiences for groups.
Virtual Team Building Events #1 Best Online Improv Class Company in 2022. We host the #1 rated virtual team building events online.
Scott improv class online is one of the world's most popular virtual team building events to engage remote teams in a unique and interactive virtual improv workshop.
Corporate team building events and improv games with proven group improv experience that your guests will LOVE!
Want to have an amazing virtual event for your team or clients? Look no further!
VIRTUAL TEAM BUILDING IMPROV EXPERIENCES
Scott's virtual improv event experience is truly one-of-a-kind providing exclusivity and fostering connection with remote teams world-wide. Great for conferences, corporate events, and team building.
VIRTUAL EVENT ACTIVITIES
HAVE QUESTIONS? WANT TO SPEAK TO OUR VIRTUAL EXPERIENCE TEAM IMPROV GURU SCOTT? CLICK HERE NOW!
FUN CORPORATE TEAM BUILDING EVENT ACTIVITIES START HERE!
Want a fun group experience with exciting team building? Try Scott's improv virtual experience for your next corporate event! We offer the best corporate events, corporate team building and training program. We've partnered with hundreds of small to large companies creating fun, interactive VIRTUAL improv events for their teams.
We deliver Virtual improv events Worldwide to corporate groups of any size with our most popular Virtual Team Building Improv Games, Virtual Team Building programs, and Virtual Training and Professional Development improv workshops led by Scott Topper!
Benefits for your organization for remote working include increased productivity, less staff turnover and improved job satisfaction, while your employees will take advantage of a better work-life balance, less commuting stress and more saved money.
A survey of 2,000 working professionals and 1,000 hiring managers by LinkedIn, found that 82 percent of workers want to work from home at least one day per week, and 57 percent want to work from home at least three days per week. It's therefore no surprise that so many organizations are moving to completely remote-based work.