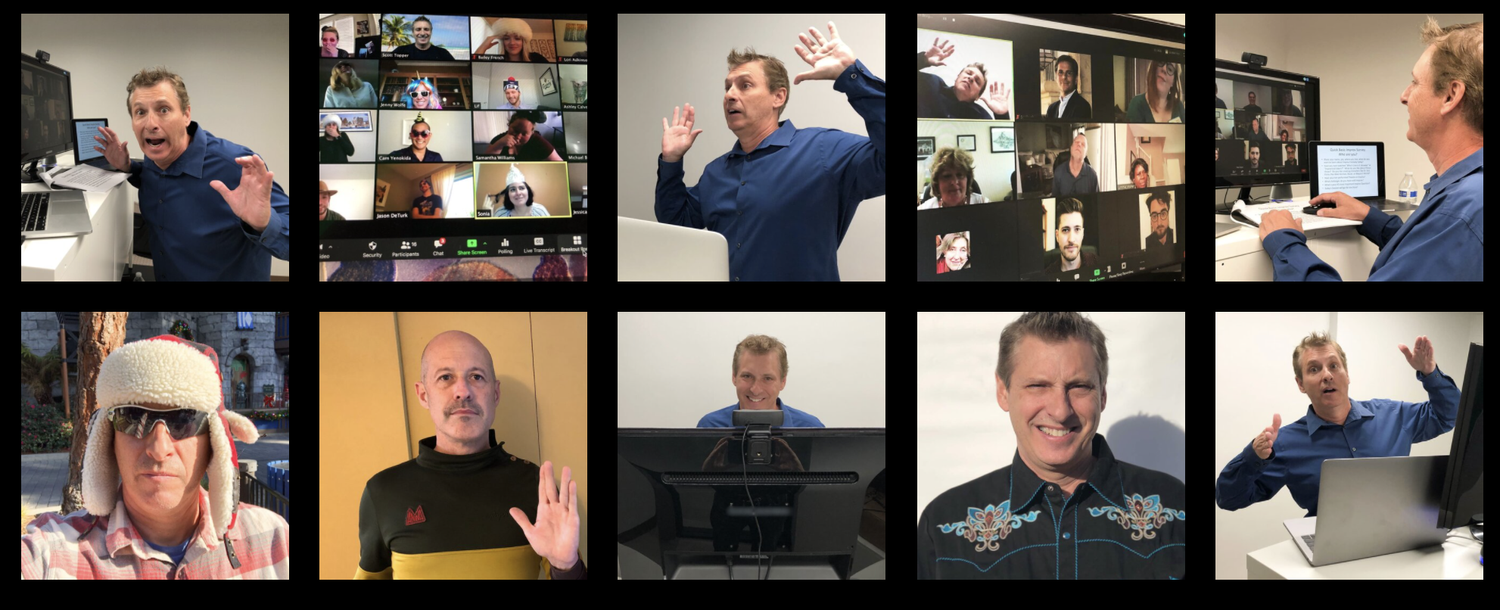 Have you ever watched the TV shows "Whose Line Is It Anyway?," or "Saturday Night Live?" Scott Topper's Improv Class online is made for virtual corporate teams looking to connect and have fun!
Improv in the workplace has become quite popular for teambuilding between colleagues with tech companies such at Meta, Twitter, and Intuit jumping on board the skill training workshop.
Virtual Team Building with Improv
Your remote team will play short form improv games for teambuilding that will foster connection. You will learn the fun improv rules including Yes, And…
Your live host Scott Topper has two of your remote employees work together to create a made-up story. Each person adds to the story by saying, "yes," repeating what the person before them said, followed by adding their own sentence beginning with "and." This cycle is repeated by the two teammates working together to tell a fun, creative, and often hilarious story.
VIRTUAL IMPROV GAMES FOR CORPORATE TEAMS
What is so fun about Scott's virtual improv training workshop is that your employees will become more relaxed and better communicators because of this fun and interactive improv teambuilding experience.
Scott's Improv Class Online is a fun and engaging improv game experience for your remote team. Some of the benefits of corporate improv training include increased team happiness, more team creativity, and a cohesive company culture.
IMPROV FOR BUSINESS
It is very fun to learn more about your remote working team while playing improv games and having fun during Scott's sixty minute virtual corporate improv training workshop led by 2X Emmy TV Show Host and Improv Expert Scott Topper.
Scott's improv class online builds trust with your remote team as they perform as an ensemble and draw upon each other's strengths. Your team will learn to perform under pressure and without judgement while improving interpersonal communication and a cultivate a corporate culture with free flowing ideas. This class helps team members to step out of their comfort zone and be open to partner suggestions. Through humor your team will break down barriers and have fun while learning the basics of improv in the workplace.
Fun Virtual Corporate Event Activities
Scott's Improv Class Online teaches remote corporate workers to actively listen to each other's ideas and add to the story by being creative and thinking fast on your feet.
If you want your remote team to become more engaged, collaborative, and creative, then Scott's virtual improv workshop experience is the right teambuilding activity for your employees. After taking Scott's fun improv class, your remote tech team will be able to make decisions quicker and with more conviction, and feel more empowered by adding value to the team.