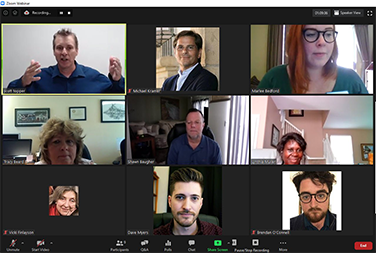 Learn improv online and gain Skills for Communicating Under Pressure. Unleash Your Creativity and Charisma. Online events for remote teams and virtual employee experience. Easily Find & Book the Best Virtual Experience for Your Team or Clients. Choose our improv Virtual Games, Team Building Activities, Happy Hour, Plan an Event.
Combat Zoom fatigue with fresh experiences and remote team building. virtual team experiences keep your remote employees connected. Virtual improv for teambuilding and teambonding. Virtual teambuilding with improv is a unique experience where individuals and team members will participate in various activities to enhance their Improv skills such as Improv Basics and yes, and…
This popular event is designed to energize, educate and entertain your team while helping them become more productive and happier on the job.
We offer team building and communication skills one hour workshop to help your team build camaraderie, develop communication skills, have fun, and get to know each other better.
"Scott's virtual improv class was a lot of fun to use as a team bonding exercise. Scott was really easy going, informative, and friendly to help us all let down our guard and be vulnerable for a fun and memorable session!"
—Stripe Corporate Event, May 2022
Creative, unique and fun improv event trusted by hundreds of TOP companies around the world. Providing fun and creative team building events to dynamic companies for over a decade. Ready to take your team to the next level and have some fun along the way? Scott has the best improv games for team building.
A series of Zoom improv games and warmups to play with remote teammates, for online team building purposes.